Det er blevet populært med det cool, rå betonlook i køkkenet og i stuen. Det rå look skaber nemlig et lækkert upoleret, urbant look, som passer perfekt til storbyens urbane livsstil. Og nu er betonlooket kommet til badeværelset, der også skal have et nyt look.
Du kan vælge mellem forskellige typer af beton, hvor de mest anvendte er microcement også kaldet microbeton og Contecobeton. Her er en forklaring på de to forskellige betontyper, og hvornår du skal vælge det ene og det andet.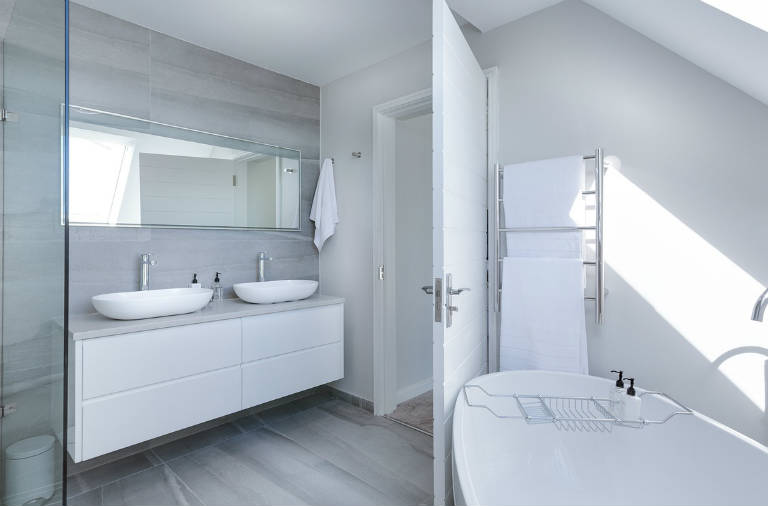 Microcement til badeværelset: Hvis du vil have professionel hjælp
Når du begynder din søgen efter beton til badeværelset, vil du formentlig støde på ordet Microcement. Microcement er et produkt, som tilbydes hos håndværkere og andre professionelle.
Microcement går helt konkret ud på, at du lægger et mindre lag af cement, som kan tilføjes til stort set alle typer af overflader. Det er muligt at lave microcement i mange forskellige farver og stile, så du kan lave din helt unikke stil til badeværelset. Badeværelset er det mest oplagte sted af få lagt microcement, fordi det har en hård og solid overflade, samtidig med at det er vandafvisende og fleksibelt.
Det er dog vigtigt, at det bliver lagt med mekanisk styrke – derfor kræver microcement, at du får professionelle til at hjælpe dig, så det bliver lagt helt perfekt.
Microcement er derfor til dig, der drømmer om et betonlook lavet af professionelle, og som gerne vil betale lidt ekstra for det færdige resultat.
Contecobeton til badeværelset: Hvis du vil gøre-det-selv
Vil du hellere skabe dit eget betonbadeværelse og dermed spare penge på en håndværker, der skal lave det for dig, så kan du give dig i kast med Conteco-beton. Conteco er nemlig meget brugervenlig, hvilket gør det let for dig at skabe det helt unikke betonlook.
I modsætning til microcement har Conteco lavet et samarbejde med virksomheden Ardex, der producerer vådrumssystemer med MK-godkendelse. Det betyder, at du som privat kan lave en vådrumssikret, gør-det-selv-betonløsning. Det skyldes, at du med microcement er nødt til at lægge en membran og fliser, inden produktet er godkendt, og det behøver du ikke med Conteco.
Conteco virker på alle overflader på badeværelset, og det er designet så du kan lægge det på, uanset om du er erfaren håndværker eller nybegynder. Contecobeton er derfor til dig, der drømmer om det cool betonlook, som du selv kan lave hurtigere end ved professionel hjælp.